Series 100 CO Sensor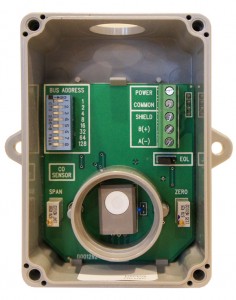 The NES Series 100 carbon monoxide (CO) detector uses an electrochemical sensor to monitor the carbon monoxide (CO) level and outputs a 4 to 20 mA signal. The NES Series 100 sensor employs a Modbus communications protocol, with a bus topology / daisy chain-wiring configuration recommended. Analog communications also is available.
Our Series 100 sensors feature a simple, snap-mount sensor printed circuit board (pcb) that eliminates the need to recalibrate each sensor every 2 to 2.5 years – a standard requirement for most CO sensors.
Simply disconnect the device wiring, remove the old sensor pcb, snap in a new, pre-calibrated sensor pcb and then reconnect the device power.
There's no need to make any adjustments or apply gas.