NES Series 200 Carbon Monoxide (CO) RS-485 Transmitter
Description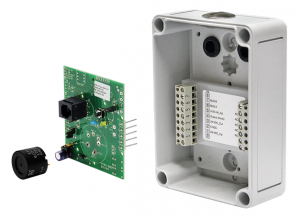 Digital RS-485 communicating, addressable gas transmitters, for the detection of carbon monoxide (CO) in the ambient air for direct daisy-chain link to NES TR & FG Series digital controllers. Provides Modbus or BACnet-MSTP communication.
NES Series 200 CO includes 4-20 mA analog input channel that also can be used for remotely monitoring nitrogen dioxide (NO2 ) / diesel fumes via the NES Series 200 NO2 Analog Transmitter.
Application
To sense carbon monoxide (CO) in a wide variety of commercial and industrial applications, such as vehicle exhaust in parking structures, engine repair shops, tunnels, equipment rooms and ventilation systems, etc., and to transmit to the NES central controller.
Features
Continuous monitoring
RS-485 serial communication
Modbus or BACnet-MSTP protocol
Plug-in, electrochemical sensor with low cross-sensitivity to other gases
4-20 mA input from remote analog transmitter
Overload & short circuit protected
Modular plug-in technology simplifies mounting and wiring
High-impact polycarbonate enclosure, NEMA 4X
Fast commissioning and easy maintenance
Field Service Advantages
Thanks to our modular design, routine field service is quick and easy.  Just remove the cover from the dust- and water-tight enclosure by loosening the four captive fasteners, remove the sensor board and install a pre-calibrated replacement.  All mounting fasteners and sensor wiring are left completely undisturbed ensuring immediate, problem-free resumption of normal gas monitoring and control.