Nagle Energy Solutions, LLC, designs and manufactures an innovative, patent-pending ventilation control system for enclosed, commercial garages which routinely achieves kilowatt-hour (kWh) and peak kilowatt (kW) savings in the range of 95% – all while leaving the garage fans running continuously.
NES digital controllers and peripherals are scalable and conform to several building management system (BMS) and energy management system (EMS) communication platforms, and they possess the capability to monitor and report on energy consumption/savings.
Moreover, the NES system integrates a web server that enables building owners/managers to conduct system status checks and adjust operational parameters – from anywhere in the world.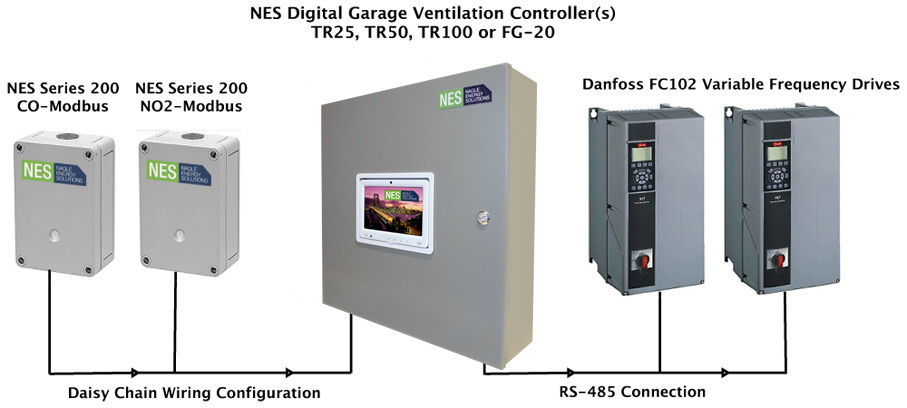 NES "bundles" our innovative solution for deployment by building automation controls contractors, mechanical contractors, energy management system consultants and electrical engineering firms.  Our end-to end system includes:
Uniquely designed and innovative garage ventilation controllers;
Danfoss variable frequency drives (VFDs);
NES carbon monoxide (CO) and nitrogen dioxide (NO2) sensors; and
NES system alarm/notification unit.
The NES digital demand-control ventilation (DCV) system utilizes a patent-pending, smart-control logic that detects and measures vehicle fumes in the garage and then modulates garage fan speeds to prevent carbon monoxide (CO) and nitrogen dioxide (NO2) levels from exceeding predefined set points (measured in parts per million) for an extended period of time.
This unique ventilation strategy, when deployed with our proprietary, patent-pending controller sequencing, routinely captures kWh and peak kW demand savings amounting to 95% – and up to 97% in some instances.
The result is to enable commercial property owners to convert an inefficient and often-expensive operational process – ventilating the garage – into cash-flow-positive resource due to the energy savings the NES system generates throughout its 15-year lifespan.
Our sales and service capabilities extend nationally and internationally.